Whether you have questions, run into technical issues, or need help with using any of our features, our User Happiness team is here to guide you. You can get in touch with us through any of the following channels:
Email
You can reach out to us via help@remote.com. This is a direct line to our User Happiness team and we strive to respond to all inquiries within 24 hours.
When emailing our User Happiness team, please include as much detail as possible about the issue you are facing or the question you have. This will help our team to quickly understand and solve the problem.
Depending on what you need help with, our User Happiness team may need to get feedback from one of our specialist teams to get you an answer.
Help widget
We have a help widget that you can access from your Remote dashboard or our Help Center. The widget is available 24/7, and you can use it to submit a support request, chat with our team or browse through our Help Center articles.
To access the Help widget, log in to your Remote account and click on the Help icon at the bottom right of the page. A chatbox will appear, and you can submit your inquiry there.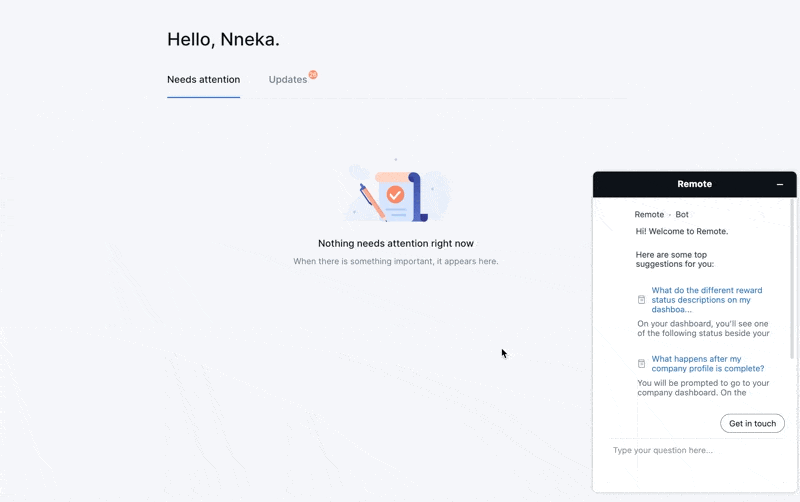 If you are logged into your account, a history of your conversations will be stored in the help widget, so you can check your past inquiries. This means you can close the widget and when you come back, pick up from where you left off. Currently, the help widget is not available on our mobile app, but it will be in the future.
Live chat
Live support is available from the help widget between 7am-5pm UTC on working days. If you reach out to us during these hours, you'll be connected with one of our User Happiness Managers immediately. If you contact us outside of these hours or no-one is immediately available, we will still respond to you but not immediately.
We always aim to respond to all inquiries as soon as possible, and we'll do our best to assist you with any issues or questions you may have.
Note: Before submitting a support request, you can search our extensive Help Center to help solve your problem. To ensure you have access to all the articles available, make sure to sign in.