Adding a company admin to your company's Remote account allows you to invite your HR team or others that need to view and/or take actions on behalf of the company.
This article will cover:
Who a company user is
A company user on Remote is a person who is able to view and (optionally) administer the details of your company account. Company users can take actions on your company's behalf, such as adding new team members, removing team members, administering payroll, etc. Since we do not support multiple roles for the same user, the employer can't invite users who are already employees of this company unless a different email address is used.
The different types of company users
There are four types of company users:
Owner: The person who created the company account on Remote. This person has the same permissions as company admins but receives emails when some events happen (eg: contractors upload their invoices, time-off & expense requests from employees).
Admin: An admin can take almost all actions that the company owner can take. Actions include inviting, updating team members to the company account, and removing team members from Remote. Company admins can also see the personal information of team members, and update the company account's account preferences. This role is suited for members of your HR and onboarding team.
People Manager: A People Manager can review and approve time off and expenses for the employees assigned to them, but they can not view any other information in Remote.
Viewer: A viewer can view all of the information that an admin can, but cannot edit any of it. This role is suited for members of your finance and accounting teams. It can also work for HR team members who need access to HR information but do not need to edit it/ add employees & contractors.
See also: What can the different company users do on Remote?
How to add a company user to your account
To add a user to your company account, you can do this from the Company details tab by clicking on the Invite button.
The person will receive an email invite to create their account.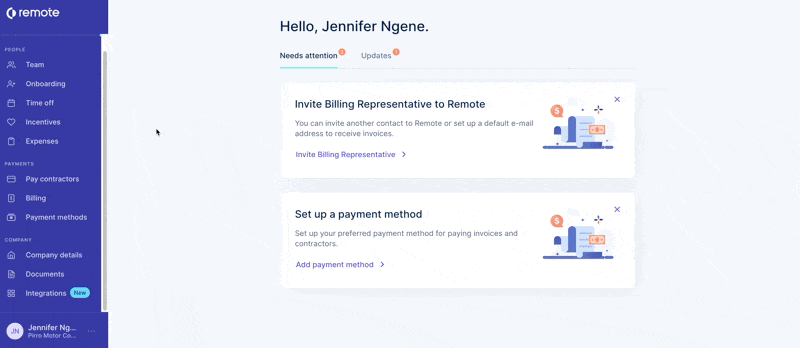 How to assign a People Manager to specific employees
People managers are invited by company admins in the same way described above but they will additionally need to be assigned to the specific employees they are responsible for. To do this:
Go to the Team tab.
Choose the employee you want to assign a specific People Manager to.




Click on the Job & Pay section of the employee's profile.
You will find the Manager field in the Employment section. Edit the field and choose the appropriate People Manager.


Note: If the People Manager was added as a Company admin previously, you will need to also adjust their role from their profile on the Company details tab. See also: Can I change a company user's role?
Deleting a company user
As the company owner, you have the power to delete a user from the company account. You can do this from the Company details tab.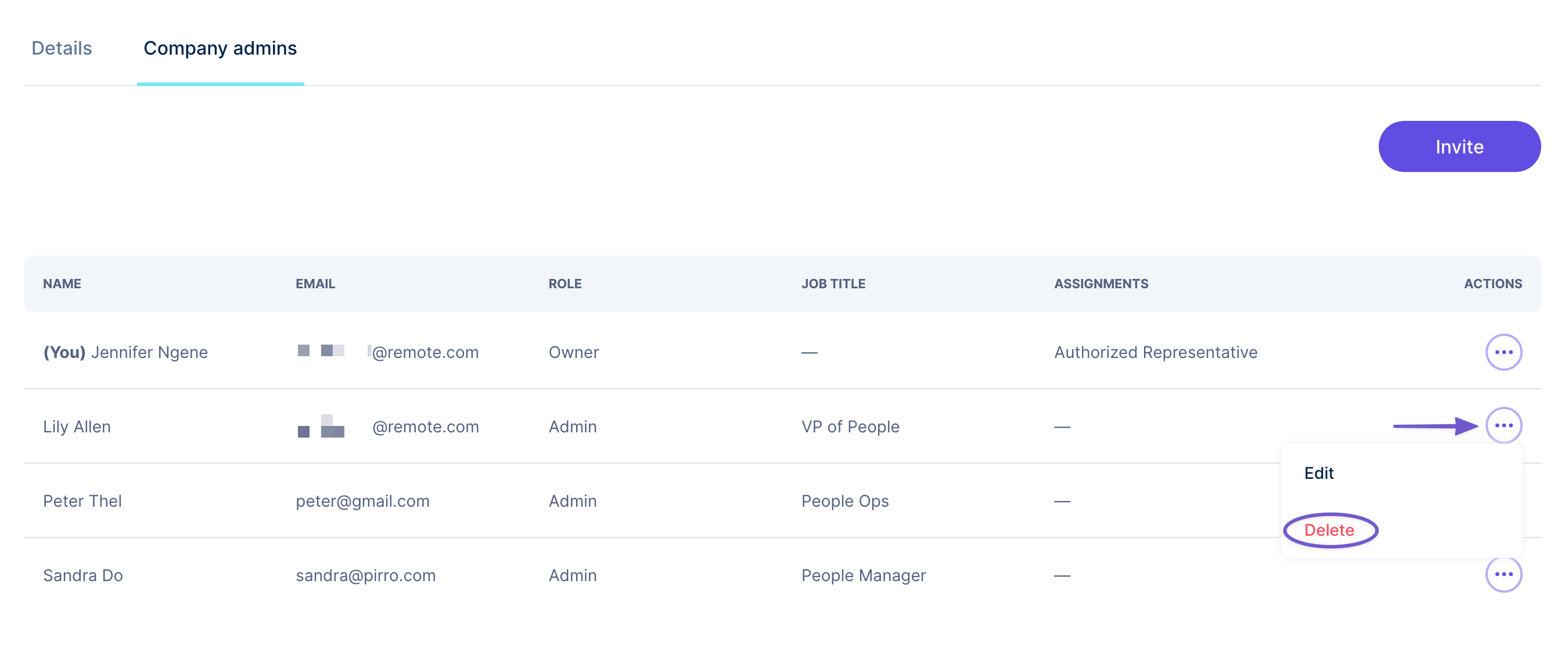 If a team member is an "Authorized Representative" they cannot be deleted unless you first change their assignment. After removing this assignment the team member can be deleted.