As an employee hired through Remote, we've made it simple to request time off (PTO) for any type of leave.
This article will cover:
Requesting a full day off
To request time off as an employee through Remote, go to the Time-off tab of your account.
Click on the Request time-off button.




You will be asked to enter the details of your leave.




Once your request has been submitted, you can find the request in the Pending tab.
Before your leave request is approved, you will have the opportunity to edit it and make changes.



You will receive an email notification when your leave request has been approved.
See also: What do the time-off statuses mean?
Requesting less than a day off
Time off on Remote is based on an 8-hour workday. If you need to request less than a full day off, you can adjust the exact number of hours you need to take off before submitting your request.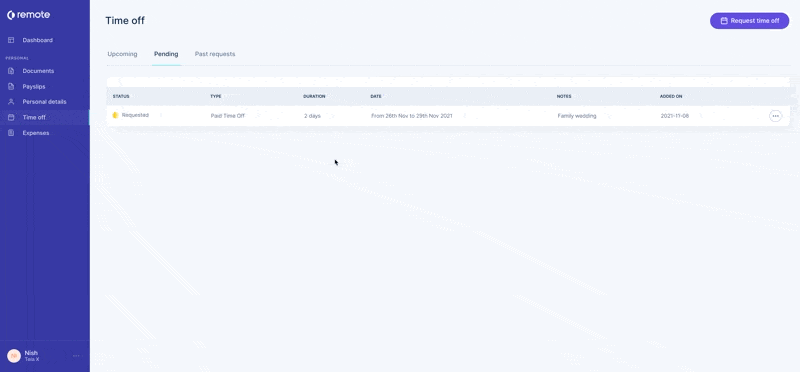 That's it! You have submitted a request for time off. Now you have to wait for your People manager to review it. Requests are not approved/declined by Remote.
Learn more: Approving time-off requests
Unpaid leave and public holidays
On the Remote platform, you can request unpaid leave. This means that once it is approved, it will be deducted from your payslip at the end of the month.
As an employee employed through Remote's local entities, you are entitled to request time off during public holidays. When adding the Time off request, all you need to do is choose the Public Holiday leave type. Public holidays do not affect your outstanding leave balance or pay in any way. For a list of public holidays in the countries that we employ people in, see our country explorer: https://remote.com/country-explorer