Previously, Remote used to calculate time off balance based on three components:
Number of paid time off days in an employee's contract
Number of paid time off days an employee requests/takes
A standard pro-rating formula
Over time, we realized this wasn't quite enough. It didn't allow for full visibility of an employee's time off, and it didn't account for the full complexity of time off types and requests.
In this article, we will break down how we calculate time off balance by covering the following:
Because our platform stores more information, we apply this to the paid time off calculations, which are now based on several components. This means that both customers and employees can see the time off breakdown, including carried over leave days from the previous year and any additional days granted to employees.
Annual paid time off
Annual paid time off is the amount of leave days given to an employee and stated in their employment agreement. While the Customer chooses how many paid leave days to give an employee, it cannot be lower than the minimum number of days established by employment laws in each country. We provide this guidance during the new employee onboarding flow.
If an employee is entitled to unlimited paid time off, the Remote platform will show the minimum amount of days the employee should take over the course of a year. We will roll out our unlimited paid time off feature, so stay tuned!
See also: Why does my employment agreement not say unlimited PTO?
Country-specific pro-rating formula
Depending on when in the year an employee joins the company, they may be entitled to a pro-rated amount of their allotted paid time off.
For example, if an employee is entitled to 20 paid leave days per year and they join on July 1 (half way through the year), they might be entitled to 10 days between the day they join and the end of the calendar year. Pro-ration works differently in each country, so this approach might vary slightly depending on where the employee is located.
If the Available paid time off balance on the employee's Remote time off page is lower than the number of days in their contract, this is likely why. The employee may have joined half-way through the calendar year and, as a result, have a lower pro-rated value because of this.

Carryover paid time off
Not all employees consume their yearly paid time off before the year ends. When this happens, depending on country or company policy, they can often carry these days into the next annual leave period. This is taken into account on the Remote platform when calculating time off balance.
Transfer paid time off
Some countries allow employees to transfer paid time off from one employment to the next. Remote now takes this time off into account when calculating the total time off balance for an employee.
Additional paid time off
Sometime, a Customer may decide to award an employee extra days off as a bonus, for their work anniversary or even outstanding performance. Remote accounts for additional paid time off when calculating time off balance, so employees always know what they're entitled to.
Accrued leave
Each country has its own way of defining how employees "earn" (or accrue) their paid time off. Accruing leave is the process of accumulating leave benefits over time, based on factors such as hours worked or duration of employment. This can be a continuous amount over time (for example, a fraction of a day off per hour worked), or a fixed periodic amount (for example, two days per month).
We've launched the accrued calculation for employees based in the United States and Canada. We will add more countries in the coming months and work on updating the balance to negative when an employee takes more PTO than accrued.
Time off page view on Remote
The time off page can be accessed from the Time off tab on the left-hand side.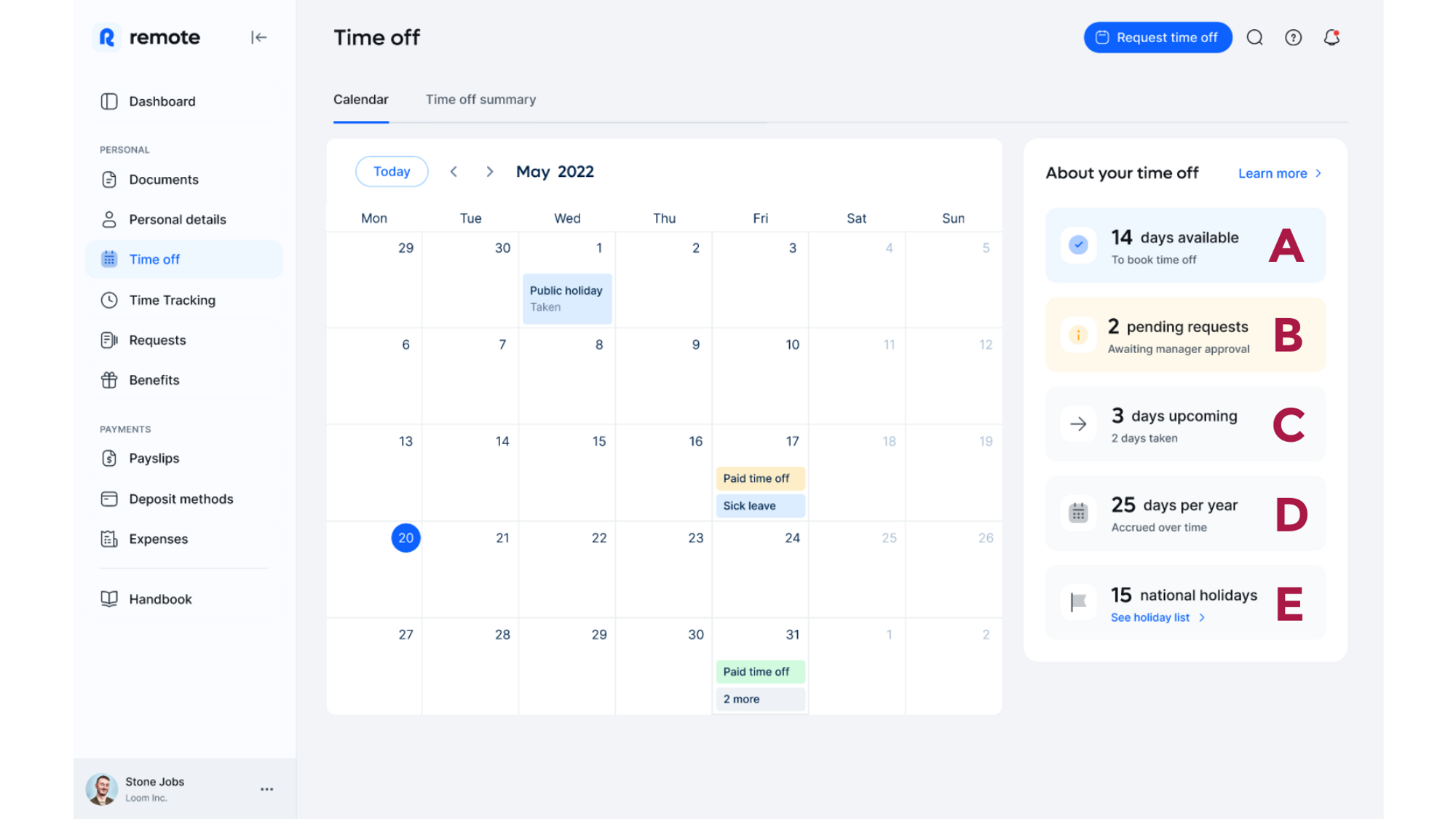 KEY
A: Days available to book time off (i.e. days off allotted minus any days already taken, requested, and/or approved)
B: Pending requests awaiting manager approval
C: Days upcoming that have already been requested off by the employee and approved by the manager
D: Days per year allotted in the employee's contract
E: National holidays available for the employee to take off based on their country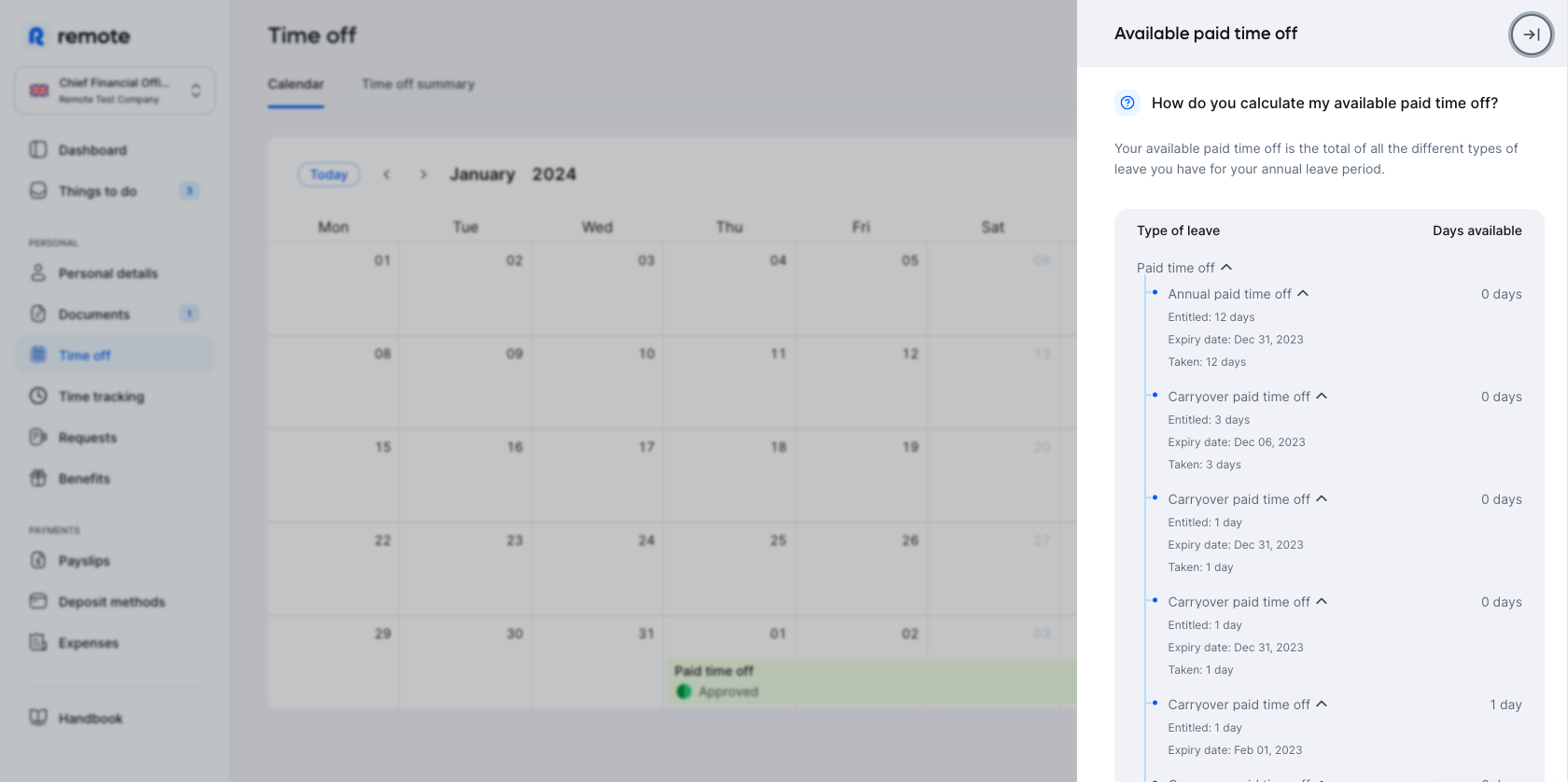 Deduction of time off days
For employees, each of the paid off categories listed above may have different expiration dates depending on several factors, including the Customer's or country-specific regulations.
Whenever you book time off, the Remote platform will automatically take those days from the categories of paid time off that will expire first. Also, when an expiration date for a certain number of paid time off days is three months, one month and one week away, you will receive an email notification — this allows you to plan your time off well in advance.