Onboarding a contractor with Remote is straightforward. With Remote, you're able to onboard, pay, and manage contractors in 170+ countries.
This article will cover:
Getting Started
To add a contractor, go to the Team tab on Remote.
Click on Add new hire.
When you choose Contractor you will be prompted to fill out their employment details.
See also: How to invite multiple contractors at once




You can choose to schedule invoices for the contractor.
If our localized contract is available in the contractor's country, you will have the option to use it.
See also: Does Remote offer contracts for Contractors




When you choose to use Remote's localized contract, you also have the option to edit the contract template as you need.
See also: Can I edit the contract template for contractors on Remote?
When you are ready to sign the contract yourself, all you need to do is click on the Sign button. This will open up a modal for you to sign the contract electronically.
After you have put in your signature, click on Sign and send.




Our contractor subscription service costs $29 per contractor per month. To proceed to the final step, click on Continue.




In the final step, you have the option to:

Edit the employment details or contract of this contractor.
Save the contractor's employment details as a draft. This allows you to invite the contractor at a later time.
Invite now. This will send an email to the contractor to begin onboarding and also sign their employment contract (if applicable).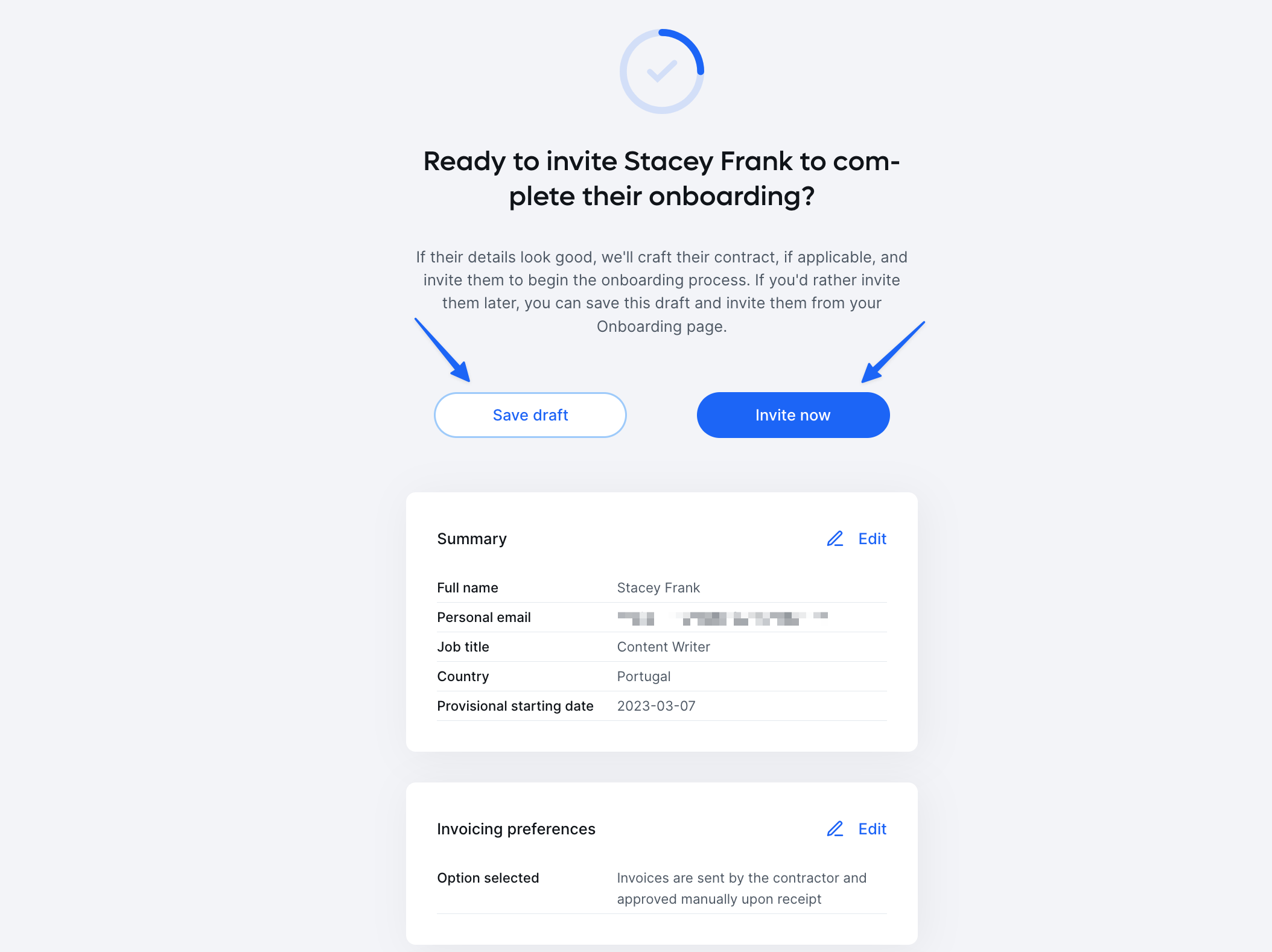 How to invite a contractor at a later date
When you choose to save the contractor's employment details as a draft, you can invite them to your company account at a later date. You can do this from the Onboarding tab.
From your Remote dashboard, go to the Onboarding tab and click on the Contractors section.
If you're ready to invite the contract, click on Finish & invite. You will be given the opportunity to review the employment details (as outlined in Step 8 above) before inviting the contractor.


Once you invite the contract to your company account, you will no longer be able to make changes to the terms of their employment by yourself. To make any changes at this stage, you will need to reach out to us at help@remote.com.
How to cancel a contractor's onboarding
If the contractor hasn't started filling out their administrative details, you can cancel their onboarding from the Onboarding tab.
Go to the Onboarding tab.
To go to the Contractors sections, click on Contractors.
Click on the 3 dots icon.
From the menu, choose Cancel onboarding.




When the modal appears, choose Cancel onboarding.