At Remote, you have the option of paying your invoice via bank transfer, ACH direct debit, SEPA direct debit, BACS direct debit or debit/credit cards.
See also: How to set up a payment method
This article will cover how to:
View your invoices
When a new invoice is issued, the billing contact will receive an email notification.
To view all your invoices, click on the Billing tab.
Select the invoice you wish to make payment for, this will take you directly to the payment page. If you prefer to review your invoice first, click on the menu icon and choose View invoice report.

Pay invoice via ACH/SEPA direct debit (automated invoice approvals)
We have now automated invoice payments for companies who have ACH or SEPA direct debit set up, so you no longer need to trigger the invoice payment manually.
If the Company has direct debit set up, the Company will be automatically enrolled in auto pay. This means that when the invoice payment is due, Remote will automatically pull the invoice amount from the Company's account.
Pay invoice via debit/credit card or BACS Direct Debit
When you add the credit/debit cards payment method, you will need to approve the invoice payment first before we automatically pull the funds from your account. This is also the case for customers who pay via BACS Direct Debit or have opted out of automatic approvals for ACH/SEPA direct debit. When you pay via any of these methods, your invoice status changes to Collecting until we receive the funds in our account.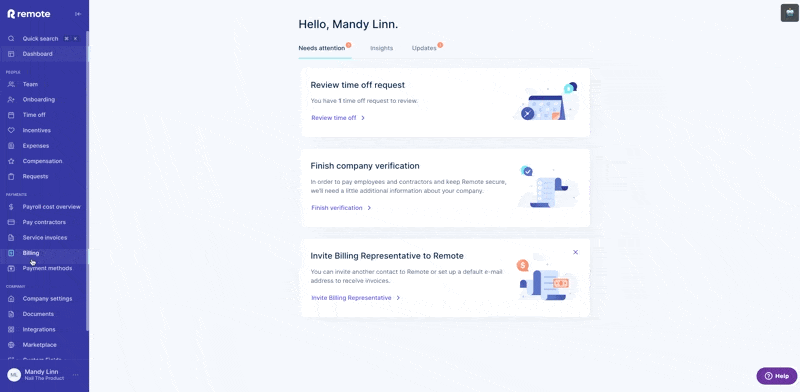 Once we have received the payment for your invoice, the status of your invoice will change to Completed

Pay invoice via bank transfer
Paying via bank transfer is more of a manual option.
From the invoice payment page, you can choose to change your payment method.
When you choose to pay via bank transfer, a payment summary will be generated which shows the payment details.
If you leave this page, you can always go back to the Billing tab to retrieve the payment details.